History of the Red Cross in Harlem 
In 1959, the American Red Cross in Greater New York (ARC/GNY) was formed. Red Cross units in the five boroughs were united into a single citywide organization, while at the same time recognizing the unique characteristics and specific needs of local neighborhoods.
Eventually ARC/GNY became a network of 11 chapters and service centers which delivered complete and comprehensive human services to meet the individual needs of the community.
As reported in The New York Times, a new Red Cross Harlem Service Center (HSC) opened in October 1970.
During its 35 years of operation HSC carried out traditional Red Cross programs such as disaster relief, water safety, CPR and first aid training, home nursing and youth services, as well as neighborhood-based programs.  For many years it also hosted an annual youth conference in conjunction with city and state agencies and hospitals. Week-long conferences were devoted to health and social issues that affected the community, such as HIV/AIDS, substance and child abuse. The Harlem Service Center also sponsored health fairs, and its Helping Hand Committee distributed holiday baskets. Jazz and gospel concerts were held as fund-raisers.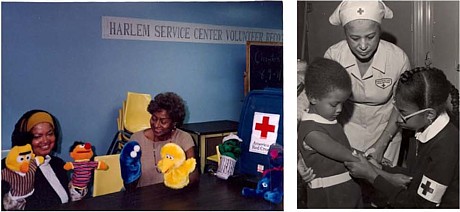 Above, Eddie O'Jay, radio announcer of the "Soul at Sunrise" show on WWRL, WBLS and WLIB in New York City gave many hours of his time to the Harlem Service Center.  O'Jay is a member of the Black Radio Hall of Fame.
In December 1997 21 volunteers at the HSC were trained in detecting high blood pressure. These volunteers visited densely populated African-American neighborhoods to test for blood pressure problems. Elizabeth Ellis-Barksdale, a Red Cross instructor in first aid and home nursing, said, "The volunteers [went] where the people are. . .including. . .churches, colleges and stores."
In a pilot program with Harlem Hospital a few months earlier, 10 Red Cross volunteers tested 1,658 people and found 321 with high blood pressure.
Unlike with other groups at the time that tested for high blood pressure, the Red Cross had a follow-up service to determine if those found to have elevated blood pressure should consult a physician.
In 2005 the HSC transitioned to the Red Cross headquarters in Midtown Manhattan to allow for better coordination and help to better meet the needs of residents in Harlem and surrounding areas. To this day, volunteers continue to provide services and support to Harlem residents in need.
In March of 2014, when a gas explosion collapsed a Harlem apartment building, Red Cross volunteers were among the first on the scene to provide aid to hundreds of affected residents.
The Red Cross has a proud history in Harlem and throughout Greater New York and continues to answer the call every day to help all those in need.
Learn more about the Red Cross at redcross.org.  Follow Nicholas Lemesh on Twitter, @NickLemesh.